Vandal Strikes Wrong MMO
12/4/2007
By: Stonebottom
FakeNews@gmail.com
SAN DIEGO, CA (via FakeNews Wire)– Sony Online Entertainment, LLC (SOE) has been forced to temporarily shut down all of their servers in response to what is best described as the most mis-directed case of cyber vandalism in the history of the computer age. As of press time, SOE technicians were working dilligently to close security loopholes and restore service to the millions of players affected worldwide.
At approximately 1 AM Pacific this morning, the live servers for SOE's beleaguered "Vanguard: Saga of Heroes" restarted. Said Vangard lead developer, Salim "Silius" Grant, "Yeah, the beeper went off, but let's be honest – a complete server restart and rollback isn't unusual for us. I thought there was something weird about the info, but at 1 AM on one of those .5" x 1.5", non-backlit beeper LCDs, you're lucky if you can read anything – let alone a 17-digit version number. One word, Mr. Smedley: Blackberry". According to sources close to the situation, somebody gained entry to the Vanguard servers and pushed a hacked version of an early beta release of the game. Though the investigation is ongoing, preliminary indicators are that this was an inside job.
"Ten minutes later, I got the 'server up' message on the beeper. The other devs and I were in [Activision Blizzard's World of Warcraft (WoW)] doing a Battlegrounds run and I asked [Vanguard Designer] Avarem to log in to Vanguard and check it out", said Silius.
Vanguard's development team first got the sense that something was wrong when Avarem reported in WoW guildchat that he was downloading a very large patch. Shortly thereafter, all of the members of the development team were logged out of WoW and patching. They were greeted with an altered loading screen (Image Below) that appeared to have been lifted from Richard Garriott's Tabula Rasa, edited with MS Paint to read "Suckula Rasa"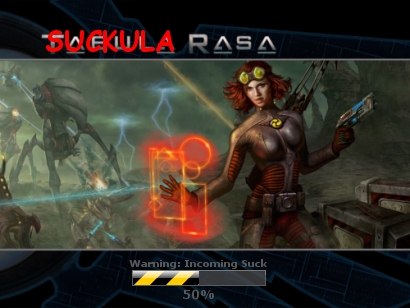 At this point, Silius and his team made the decision to pull all the servers offline until they could determine the extent of the damage. In addition to the loading screen vandalism, the character select screen seemed to have been reverted to an incomplete version with notes of "Add Later" and the only available character classes as "Rangers". The character racial choices were limited to "Garriott" and something called "Micronauts". Extensive vandalism was reported here as well.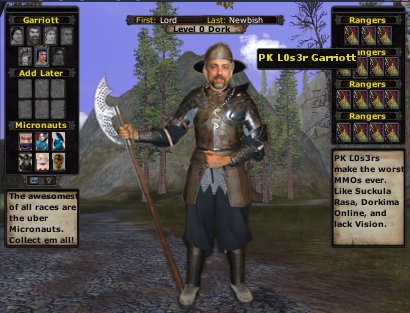 SoE President John "His Royal Smedness" Smedley, having been alerted to the growing problem, logged into Eve Online to ask the Star Wars Galaxies development team to assist in the restoration of Vanguard and to begin checking all other SOE games for possible tampering. He also called Richard Garriott, who had been swimming in his money bin outside his Austin countryside castle, and alerted him of the situation.
Said Garriott, "We've had numerous attempts to attack the Tabula Rasa servers over the past few weeks, which isn't uncommon for any major MMO. None of which have caused any major alarm." When asked if he had any thoughts on a suspect, he offered, "Well, most of the recent 'attacks', and I use the word lightly, originated from Carlsbad, California. And we have had a bit of ruckus on our forums from a fellow named Enudara, but the fellow seemed to lack any sort of ability to finish what he started. I doubt he could have pulled off something like this."
Despite our pressing inquiries, Mr. Garriott excused himself for an appointment to get "NC $oft", surrounded in a cluster of pink hearts, tattooed on his chest.
SOE expects to have all servers back up and running by noon Pacific Time today and is confident that they will find and close whatever security hole this attacker exploited. Authorities believe the individual responsible intended to vandalise Tabula Rasa directly, was technically incapable of doing so, and instead spread his message of hate via Vanguard: Saga of Heroes.
John "Smedstar Runner" Smedley released the following statement to the press:
"Sony Online Entertainment LLC (SOE), a global leader in the online games industry, today suffered an act of vandalism of it marquee product, Vanguard: Saga of Heroes, a highly-successful massively multiplayer online game, re-branding it as "Suckula Rasa". SOE is announcing a $25 million reward for information leading to the discovery of the attacker behind today's events.

The driving creative force behind the Suckula Rasa effort in the game space is unparalleled. We look forward to identifying the genius behind it and continuing their vision to deliver sound groundbreaking game play.

SOE seeks to make Suckula Rasa an integral part of its online games portfolio, bringing even more value to its valued Station Pass member with this exceptional product."
Detective Sean Grady of the San Diego Police Department issued the following statement: "The city of San Diego takes this vandalism very seriously and we are doing everything we can to find the perpetrator of this act and bring him to justice. In the meantime, stay vigilant, report and suspicious activity, and for Pete's sake will you nerds please just go outside and get some sun? Frankly, we don't understand the big deal. Go play softball or something like normal people."
Please keep your eye on the FakeNews Wire as this continuing story develops.